The Beneficials!
Heroes of the Soil
(2018 Project)
Introducing...The Beneficials! Another Worm Farming Revealed learning product.
We are currently working on The Beneficials video and storybook. It will be entertainingly educational for kids AND adults. We're planning another KickStarter Project and this story will be available as...
Full-Color Storybook with several professionally illustrated pages
Cinematic music score and sound effects
Illustrated storybook w/narration CD
Vimeo On Demand - Illustrated video
2-Hour DVD
WFR NEWS ALERT!
Campaign Begins! 
April 1st 2018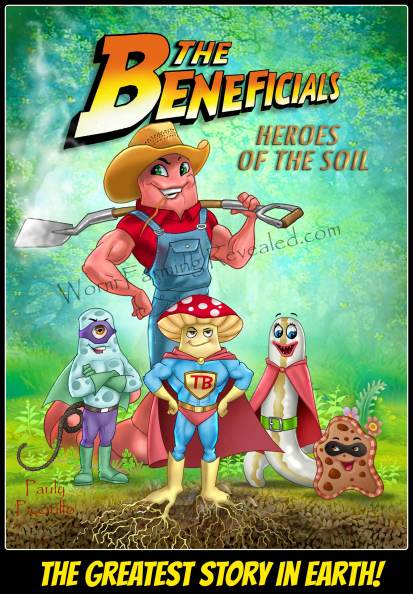 Several Rewards for Your Support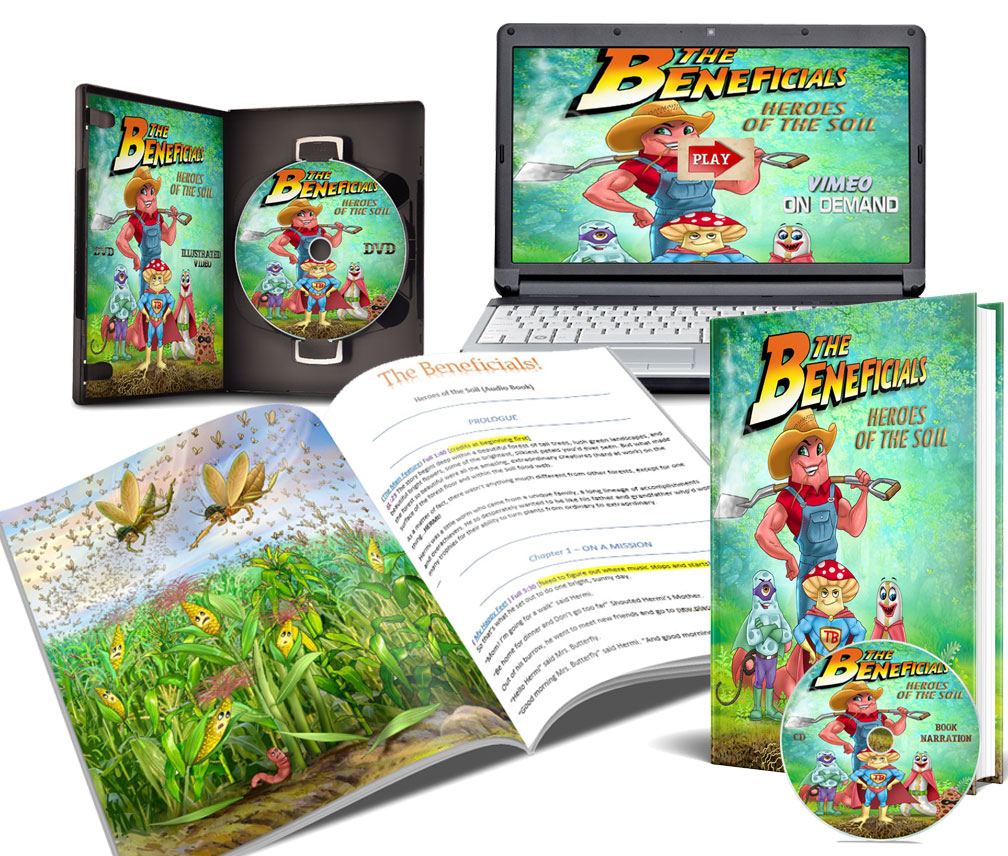 You've seen them in the Worm Farming Coloring & Activity eBook.
NOW...
THEY'RE...
BACK!


Bigger, Stronger, and Super-Charged!!! 
We live in a world of processed foods. Even though we're currently experiencing a rise in natural home-grown produce, manufactured foods, which are filled with chemical fertilizers (poison), are also increasing.
Many have already discovered how to create the best soil to grow food. I've already written those books for adults. 
However, our future lies in the next generation (Gen-Z or iGen) to carry the torch of truth. I WHOLLY believe this generation will be the generation of TRUTH seekers.
Amidst mounds of fake news, misinformation, and politically-motivated products/agendas, the task will be monumental for our children and grandchildren. Sometimes the TRUTH can emerge and stare them straight in the face without them ever knowing ;)
This storybook will do JUST THAT! 
While they're watching, listening, or reading this fascinating story about how the soil works, it'll be planting seeds of truth they'll grow to appreciate, and hopefully one day, practice or be sympathetic to.
Stay tuned for more about The Beneficials story update and plot/synopsis.
More to come...
Update Oct 20th 2017 
I want to share a past newsletter to my readers.

Greetings Everyone,

Many of you have noticed that I've been pretty quiet lately, and for that, I apologize. It's a necessary evil, at this point, because of the HUGE project in the works.
You've seen The Beneficials illustration on the website and in my profile pic at our Facebook page. This IS the current project I've been working on for a few months.
Some of you understand what I'm doing, but NO ONE really understands the size and scope of what's about to happen (not even some of my family members know).
This is why I'm writing to you.
I've been writing heavily (on and off) for the past 3 months, during the summer, and into the fall on The Beneficials and on the plot since spring.
It has taken ALL of my attention. So much that I have suspended all worm orders, for now.
I still ship other worm-related products, including my other books, but this is how intense and serious I am about this project.
All other distractions are completely shut down. I'm in my own little world. (I do still eat though) ;)
First of all, this is NOT your average children's story book. If all goes well, here's what will be happening…
THIS IS A MAJOR STORY LINE!
It's not just a cute little worm that promotes the benefits of worms and healthy soil. It's so much more than that.
Last night, I put the finishing touches on the end of the story.
After doing the math, the story is just under 2 hrs long.
Now, I know what you're thinking. "2 HOURS??? How in the heck are you going to retain kid's reading attention for 2 hrs?" I don't intend to. Not with reading it. There will be a condensed version for that.
That's why it's going to be a major project. It will contain…
1. Several beautiful and professional illustrations from beginning to end.
2. Stunning cinematic music score (1 hr and 10 mins worth) the same music you hear from movies like: Star Wars, Raiders of the Lost Ark, etc. 
3. Voice-over recordings for SEVERAL characters.
4. Narrations
5. Animated Sound effects
6. Encouraging & motivating philosophies
7. All put to video editing software for audio and visual entertainment
This is a unique story with brand-new characters and brand-new superheroes the world has never seen.
WHY AM I DOING THIS?
If you've read any of my books, then you know where my heart lies. I want to get this idea (how worms and microbes create a living soil) into the hearts of everyone.
It's the only way I can think of to penetrate the hearts of those that..
1. Don't know about the Soil Food Web
2. Don't know about the benefits of worms
3. Don't understand the dangers of synthetic fertilizers
4. Don't care how our food is grown
5. And so many other reasons
That's why it has to be put into a compelling and professional story. One that is written to appeal to Disney/Pixar, DreamWorks, etc.
The only difference is, this is NOT animated, but with the effects of studio software, the illustrations will come to life.
This story IS fiction (Duh!) :) BUT the way nature, worms, microbes, etc. work and benefit plants and surrounding soil, will be 100% accurate. That's the beauty of the story.
Kids, teenagers, and adults will be wildly educated, yet clueless that the story is planting seeds of truth or even teaching them something.
When people are finished watching the video or reading the story, my hope is they seek out YOU! Looking for worms, castings, or just looking to get rid of chemicals and move into natural and organic methods.
I'm also hoping to wake up a sleeping giant within commercial AG, maybe for the worse, but hopefully for the good of those that want to open a dialogue about the current farming methods being implemented.
Please bear with me. Because this is the only way, right now, that I know how to explain to you about what is going on.
Many of you may be thinking, how in the world, do you take worm farming, gardening, recycling, etc. out of our industry and into the rest of the world much faster?
This is what I've been wrestling with, and I believe it's with the right machine delivered with the right message that most everyone will WANT to hear. So what is THAT message?
Okay then, let me give you a short synopsis.
Hermi (our main character) lives in a beautiful forest. He's just a young worm with big ambitions of being like his parents who've made plants extraordinary.
So, he sets out one day to do just that. During his adventure in the forest, a HUGE storm washes him out into an unfamiliar place. A place everyone warned him to stay away from, THE CORN FIELD!
After the storm, he finds himself lost and in a desolate land containing almost no life. He's accosted by HUGE scary corn stalks, but ends up befriending them to help save the maze community by bringing the forest and his forest friends to the rescue, thus, creating a new type of superhero, The Beneficials!
I'll be running another Kick Starter campaign to raise the funds for…
Custom Illustrations and the commercial rights

Commercial rights to professionally created music score

Rights to use sound effects

Creating a condensed storybook for kids

Creating a coloring book based on the original illustrations

Possibly an audio book
This might be shooting high, but it's better to shoot high and get most of what I want. However, I'm looking to raise the funds for all of it.
The great thing about a story like this is, it's not just confined to a small genre like my Worm Farming Revolution book.
This Kick Starter campaign will go out to ANYONE who wants to hear a wonderful story with a superhero ending. So, I think the campaign will be successful.
I don't know how much it will cost yet. I haven't made it that far. I've only finished the story and lining up the music.
There is still much challenging work ahead especially for my illustrator.
I hope you now understand the size and scope of what's ahead in the very near future.
Thank you EVERYONE for your support both in the past and what's to come for the Worm Farming Industry.
Our Last Kick Starter Campaign - Sign up to follow me for updates on The Beneficials campaign.
~Pauly
Go to all Our Books from This Page, The Beneficials