The Beneficials!
Heroes of the Soil
(2023 Project)

Introducing...The Beneficials! Another Worm Farming Revealed learning product.
This story is entertainingly educational for kids AND adults. 
They're Getting Closer to HOLLYWOOD!
I'm excited to announce this story is now a screenplay. I've added way more detail to the plot (from it's original book format) and it certainly reads like a Pixar movie. The feedback has been very positive. 4 AWARDS!
The story contains 20+ lively characters, serious AND hilarious. They all have their unique voices and accents. Best of all, the script has you guessing what will happen next, along with understanding and caring about the environment, the food you eat, and your health.
The story is extremely unique with heroes never seen before. It's a message that will enlighten and entertainment the general audience.
Ladies and Gentlemen,
Boys and Girls,
Announcing...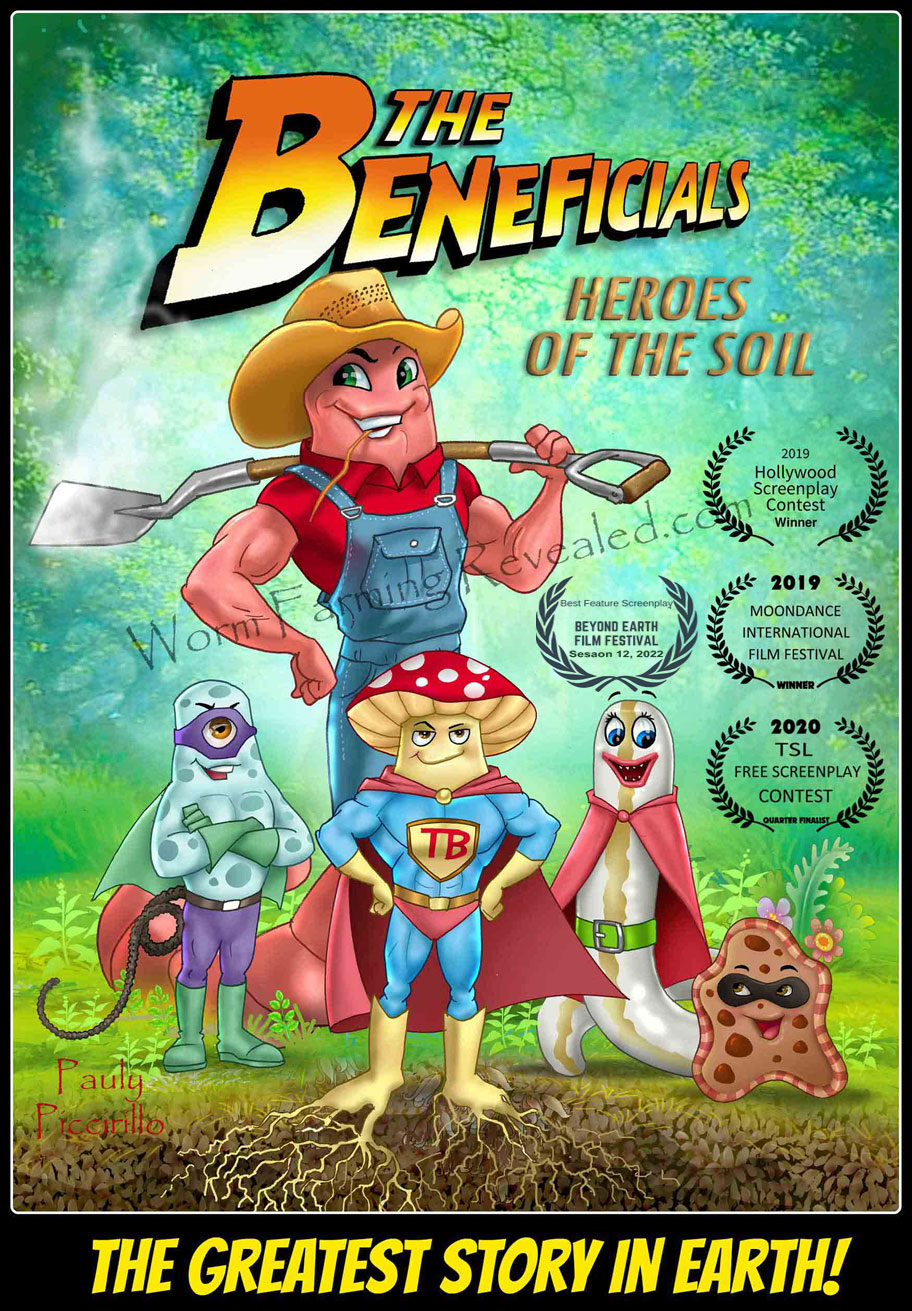 More Illustrations Below


Watch the Trailer

The Beneficials Trailer - Barnraiser from Pauly on Vimeo.
Pitch Deck: For Producers, Agents, Managers, Studios, & Investors 

Download:
The Beneficials Pitch Deck

We're in search of producers, managers, and studios who are looking for educational and entertaining scripts concerning animals, the environment, and how nature works through biodiversity and the importance of our role. 

The Beneficials is currently in InkTip Magazine and entered into several festivals.
The Beneficials is not in a hurry to go to the big screen. We want to partner with the right company who shares our vision for healthy food and medicine.
If you're a studio or someone who is interested in working with us, please contact Pauly.


TIMEOUT!
Video Update Dec. 2022, with Our 4th Award!
Even though we're building notoriety with festivals, we can use all the help we can get. All you have to do is share this video, other individual links (above), or The Beneficials Webpage (right here). Help get this Screenplay to the right person. It only takes ONE PERSON that shares our vision. Thank you Sooo Much! ~Pauly
You can also donate to help get the Screenplay into more film festivals. Our judges score the screenplay with very important advise, wisdome, pros, and cons of the script.

Aside from the screenplay entry, this cost $70 to $300 (depending on the festival and the amount of feedback). Your help is extremely appreciated. You'll get a personal email from me thanking you for your support.
Donate to The Beneficials Project



You've seen them in the
Worm Farming Coloring & Activity eBook.
NOW...
THEY'RE...
BACK!


Bigger, Stronger, and Super-Charged!!! 
We live in a world of processed foods. Even though we're currently experiencing a rise in natural home-grown produce, manufactured foods, which are filled with chemical fertilizers (poison), are also increasing.

Many have already discovered how to create the best soil to grow food. I've written those books for adults too. 
However, our future lies in the next generation (Gen-Z or iGen) to carry the torch of truth. I WHOLLY believe this generation will be the generation of TRUTH seekers.
Amidst mounds of fake news, misinformation, and politically-motivated products/agendas, the task will be monumental for our children and grandchildren. Sometimes the TRUTH can emerge and stare them straight in the face without them ever knowing.
This story will do JUST THAT! 
While they're watching this fascinating story about how the soil works, it'll be planting seeds of truth they'll grow to appreciate, and hopefully one day, practice or be sympathetic to.


Are you an organic grower, composter, food recycler, or serve organic and natural food...? Then you're a Hero! But what makes these plants make YOU look so awesome? It's the soil heroes that make the plants so amazing, The Beneficials!
Finally! There's a story behind what makes our gardens and food much like medicine. It's a story about the forgotten heroes hard at work within the soil food web. It's a story that will show people what YOU DO is for the benefit of your customers, your family, & the WORLD!
It is...
The Greatest Story In Earth!
Environmental Heroes
IT'S TIME FOR NEW HEROES!
The Beneficials, A Real World

I want to show everyone something different!
I want to show people a REAL world, a world of ordinary beings with extraordinary abilities. I want to show ordinary people how plants need a hero too, and when our food becomes extraordinary, so do we.
Meet Hermi!

The Synopsis:

Hermi (our main character) lives in a beautiful forest. He's just a young worm with big ambitions of being like his parents who've made plants extraordinary. 
It's his "mission".
So, he sets out one day to do just that, while befriending a few beneficial microbes along the way. 
During his adventure in the forest, a HUGE storm washes him into an unfamiliar place, a place everyone warned him to stay away from, THE CORN FIELD! 
After the storm, he finds himself lost and in a desolate land containing almost no life within the soil. He's accosted by HUGE scary corn stalks. 
He notices something bizarre about the corn and the strange land he's in. "This isn't anything like the forest." 

He whispered to himself. "There's something wrong with this place."

Suddenly, he discovers his mission is much bigger than himself.
Hermi desperately needs to get back home, find his forest friends (Proto, Nema, Gus, and Bob), to help save the maze community from dangerous pests and chemicals. 
While trying to accomplish this dangerous mission, a new kind of superhero is born...
THE BENEFICIALS!

True Environmental Heroes of Nature
(from left) Proto, Bob, Gus, Nema, & Hermi

Without them, we wouldn't be able to grow anything.

My goal in this story is to teach kids and adults about real-life beneficial heroes of the soil like,



Protozoa (Proto)

Bacteria (Bob)

Fungi (Gus)

Nematodes (Nema) 

Worms (Hermi)
in a way I've never done before. It might actually be the very first message of it's kind.
Each real-life organism has a purpose and place within the soil-food-web benefiting plants, and now, PEOPLE ARE GOING TO LEARN this without even knowing they're being educated! 
Kids, young adults, teachers, and those interested in nature of all walks of life, will be wildly entertained for 2 Hours in the video book and through other media methods.
My name is Pauly. I've been worm farming, composting, and gardening for several years and have created several publishings (including a successful KickStarter) that educates everyone from kids to adults. I teach them how to create the best soil amendment a plant could ever need to grow healthy, with big fruit. No need for chemical fertilizers ANYMORE!
Let us all Teach, Inspire, and Empower one another!
~Pauly
The Beneficials - Environmental Illustrations
More illustrations available to producers upon request contact Pauly.
Help The Beneficials get into more festivals or purchase a T-shirt below.


The Beneficials T-Shirt. Show your support for what makes plants turn from ordinary to extraordinary. Support the Heroes of the Soil!

Original Story Book edited by: Gene Hult. 
Gene's work dates back over 20 years and has written over 115 books, edited, and has been involved with books such as...
Shrek 2, Batman Begins, Spider-Man 2, The Batman, Teen Titans, Clifford, Maya and Miguel, Tonka, Duel Masters, Barbie, Krypto, G.I. Joe, Care Bears, Trollz, Rescue Heroes, Strawberry Shortcake, Dragon Ball Z, Green Lantern, plus many more.
He's worked with Simon & Schuster, HarperCollins, Random House, and Scholastic.
Other works involve the bestselling Kids' Book of Sudoku series and the #1 New York Times children's bestseller A Treasure's Trove: Secrets of the Alchemist Dar, as well as coloring and activity properties such as Dora the Explorer, SpongeBob SquarePants, Care Bears, Thomas and Friends, VeggieTales, and Teenage Mutant Ninja Turtles.
I have given Gene the script and he writes ...
(paraphrased)
"Hi, Pauly— 
The Beneficials - Heroes of the Soil...is fun, funny, and yes, educational...I'm excited about working on The Beneficials."
I'm stoked to have him on board as editor and look forward to an exciting adventure this year.
Go to all Our Books from This Page, The Beneficials