New Worm Bin Setup - Is Homemade Compost a Good Addition?
by Ben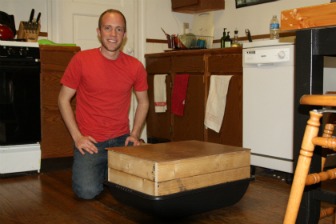 The Worm Bin
Well, I just ordered my worms they're supposed to ship out in 8 days! (yes I'm counting).


I built the 2x4 flow through bin Pauly describes, except I ripped my 2x4s in half because I like to save my wood and also figured it would make the system a little lighter for my wife.
Also no one seems to carry 1/8" hardware cloth, I finally gave up and just used 1/4" has anyone had trouble with using H-cloth that size?
Anyway, I filled the bottom tray (I only have two trays right now) with shredded paper as well as some fruit/veggie scraps from the kitchen, I plan on letting it sit for about a week before the worms arrive.
I also added some of my homemade compost (about 2 cups, screened to 1/4") just to give them some dirt-type material to move around in.
My question is if the compost is a good or bad addition?
The compost came from a crate of about one cubic foot that I have in the back yard. It started with leaves/grass from the yard as well as my vegetable scraps from the kitchen, lately I've been getting coffee bean chaff and brewery grains from some local shops, as well as some llama manure from a guy out in the country.
Two weeks ago I had the pile at about 150 degrees F; it has cooled off significantly since then. I'm hoping that the heat killed anything that would hurt the worms but I don't want to take any chances.
Should I go with the compost or toss it back in the bin and just use shredded paper and food scraps?
Thanks for your help! Also I attached a couple pictures to show the bin, it's small right now (about 1.5' x 2' per tray) I plan to expand as my worm population grows.
Ben