My Successful Worm Farming System
by Leslie
(Kimball, MN)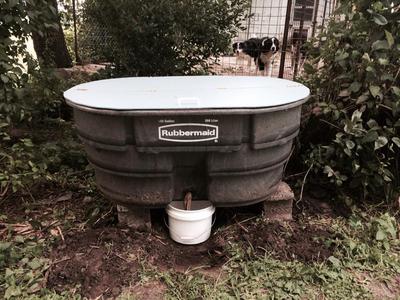 My Worm Farming System
Greetings from Kimball, MN~


I've only been vermicomposting for two years. After thoroughly researching and finding some good mentors
this is the system I came up with on practically a zero dollar budget.
Our goal was simplicity.
We started with an old 150 gallon Rubbermaid stock tank that someone disposed of at the end of their driveway because the heater had melted a 4"x 1" slot in the upper level, so it no longer served it's purpose for them.
We took this tank and set it up on some old cinder blocks we found buried on our farm and leveled it slightly tilted forward to encourage flow to the 1.5" drainage hole that is located on the bottom front.
Next we used an old sock or rope to work as a filter and also to absorb the juice, which would then slowly guide into our collection bucket/jug.
Next we placed 4" of slightly dampened peat moss on the bottom and then a fine layer of sand to help aid in digestion of the worm's gizzards because they have no teeth.
Third ingredient, was about a pound of Red Wrigglers, then a 2" layer of dried deciduous leaves. Black plastic would be ideal for a cover, but our other critters loved our bin too, and were always laying on top of it trying to get to the scraps. So we used an old sheet of plywood that we salvaged from a remodel.
We cut this in half and painted it with scrap paint that retailers sell that was mixed incorrectly.
A gallon of paint typically runs $3-$5. My husband had some on hand for his apiaries, so I considered this a freebie!
To position the wood cover, we decided to splurge on some hardware which consisted of bolts, nuts and washers on the back piece of plywood and then four hinges to connect the two sheets in the middle and then a stray handle to lift the lid.
I'm not a fan of newspaper for worms. It attracts fruit flies and tends to make a bin too wet and soggy. The black compost is much more desirable than the soggy light gray color you get from using newspaper due to the clay in it.
So I try to stick with peat moss, or unprinted cardboard.
I didn't add more vent holes because too much air will breed fruit flies.
I feed fruit, vegetables, leaves and plant trimmings. No animal poop!
The fruit and veggies usually get blended with some water to form a smoothie. Working side to side in the bin, I picture four sections and stay in one section for at least a week, so by the time I return to that section it will be at least a month's time. I do this by simply digging a hole with my hands (metal implements kill worms!) and set that compost aside, then I fill the hole with my scraps and cover with the compost I set aside, making sure to cover the scraps by at least 2 inches. Top off with some leaves and close the lid.
Living in MN, where it can reach –40*F, I hate to have my worms freeze out. I have a 5 gallon bucket system I keep in our basement during the Winter, which I transfer a few worms to until Spring comes again, but my goal is to build a small room in our barn, because 150 gallon bin of worms can easily handle approx. 200 lbs of waster per month if it's cool enough.
That much compost creates a lot of heat!
So, I'm hoping to see the 150 gallon bin someday heat it's own building.
Typical Cost:
Rubbermaid Stock Tank: $212
Cinder Blocks $4
Wood $25
Hardware $8
lb of Red Wigglers $35
Paint $20
Peat Moss $15
Sand $3
Total = $318
My Cost:
Tank- free
Cinder Blocks- free
wood – free
Hardware $8
Wigglers – free (neighborhood gift)
Paint – free
Peat Moss – on the farm
Sand – stole from kids sandbox. :)
Total = $8