Cobs Worm Fridge
by Jacob Boswell
(Clyo Georgia USA)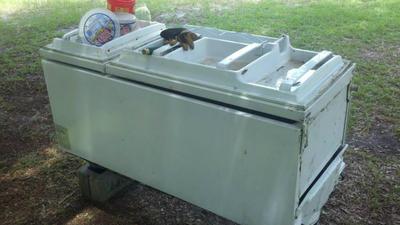 The fridge as you see being upside down makes for great shelving
Well I started off with old fashion Rubbermaid containers. Then I got the idea of using a freezer. So I put out an add on Facebook and some other sites but I couldn't find a standup freezer anywhere.


I have a friend who owns a local appliance repair shop and he saw my add and called me. Told me to come by his shop he may have something for me so I went and seen him and I left with a refrigerator.
What I did is I decided to use it as 2 bins in 1
. The freezer portion has a mixture of euros and red wigglers. The refrigerator has euros in it. I took the doors off and turned them upside down to use as a cover.
The reason I turned them upside down is the gap allows airflow and keeps the bin from getting "musty or smelly". We all know air flow is very important in our worm bins. My plan for the future is to build a wood top for the bin and I also am planning on getting another fridge and building a flow through system that will house red wigglers.
For bedding I use peat moss and black kow composted cow manure. I feed them vegetable scraps and once a week treat the worms to a combination of grits and corn.
They absolutely love the grits and corn meal
. Its amazing how fast it disappears.