Chest Freezer Flow Through Worm Bin
by Jorge Fernandes
(Pedrógão Grande, Leiria, Portugal)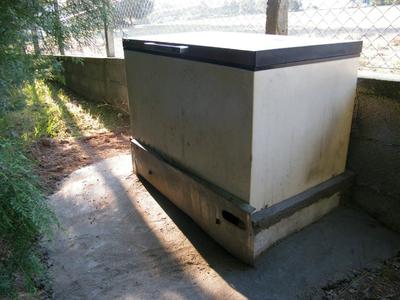 Chest Freezer Flow Through Worm Bin 1
Hello! I've been raising worms in containers for over 2 years now and just decided it was time to upgrade and take the worms out of my basement.


I came up with this idea after watching several flow through systems over the internet.
I realized that the insulation that the chest freezer's walls provide would have great value to raising worms outdoors
.
It's a very affordable system because I made all of the work with the help of my father-in-law and
the freezer was free
. I welded the mesh to the steel angle in the front, as there would be no other support on that side.
I expect that the castings will drop by themselves but if they don't I will probably install a cutting bar.
I never gave much attention to what my worms are eating.
I just give them whatever vegetable scraps I have left from the kitchen and, some times, sheep or pig manure
. I've had some problems with potatoes and pumpkins germinating in the worm bin but I just rake them and they rot.
Greetings from central Portugal!