Worm Farming Blog
The Worm Blog is where you can find the latest...
Information or pages that are new or updated on the website
Posts to questions and answers
Personal worm farming journeys
News within the worm farming community
But mostly worm related/garden stuff 
Basically, The Worm Blog lets you know whenever I post anything new or add a lot more to an existing page so you don't miss a thing.
To subscribe to The Worm Blog (no e-mail address necessary), RIGHT-click on the orange RSS button and then copy-and-paste the URL of this site's RSS feed into your RSS reader. OR...


Click on the Google, My Yahoo!, My MSN, or Bloglines button if you keep a personalized home page there. Follow their instructions.
---
So What's New At WFR?
Mar 22, 2017
Invasive Pest on the side of the worm bins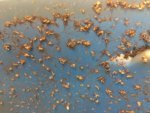 I have no idea what this is in my worm bins. I have taken all my worms out - cleaned the bins - and put when worms back in. Within a week these shells
Continue reading "Invasive Pest on the side of the worm bins "