Gardening Tips & Advice, My 2020 Struggles

Hell Hath No Fury Like 2020!
Most of you worm farm for the ability to harvest castings to use for plant food, mix with other grow mediums, and brew worm tea or make worm tea extract.
I've been gardening since I was a kid but doing it naturally for 15 years now.
Ever since getting away from complicated, unsafe chemicals and using worm castings (and other natural growth mediums) my gardening/harvesting life has been enormously rewarding.
Still we all ask ourselves how can we improve? Where did I go wrong? I may have some answers for you, because sometimes even if your foundation is right, you're still up against the many elements of nature. Chances are, you may NOT be doing anything wrong.
Every spring I plant seeds or seedlings, get excited, and fall in love all over again with gardening.
HOWEVER, this year was the worst year in my gardening history. Where did I go wrong? My soil mix, brew recipe, and general methodology was the same as always. I didn't change anything out of the ordinary…well, maybe except for ONE thing.
So, if you've had difficulty gardening this crazy 2020 year, please continue to read and get some good gardening tips and advice and look at the many gardening pics I have so far for 2020.
Read More About My Gardening Tips & Advice. See Pics



Worm Farming Interest WORLDWIDE Like I Have Never, Ever Seen Before 😲
Now, let's talk a little about the worm farming boon of 2020.
There's no doubt that the infamous, (good/bad) pandemic lock down of 2020 has caused quite a bit of concern (fear) in the minds of millions of people across the world.
Everyone ran to the stores for toilet paper, sanitizer, liquor, cup of noodles, and really, everything they could stalk up on for the foreseeable future.
Stores were running out of everything and fast, limiting one item per family.
This is NOT "new" news. However, this was an enormous boon for the worm farming industry.
It was a wake-up call to 100's of millions of people (even preppers) who already knew the importance of keeping essential items in storage for such things as
• Floods
• Earthquakes
• Droughts
• Loss of Job
• Foreclosures
• Economic Collapse (such as 2008)
• Power Outages
• Inflation
• And who would have thought a virus Pandemic? (we all should have since the last Spanish flu, swine flu, bird flu, and the flu-flu :/ )
• And many others

This is one of the major reasons my family and I decided to raise goats, chickens, and have a sustainable garden. Practice makes perfect. So, when the time comes, if you do eventual stop raising animals and gardening (due to life situations) you'll know how to get right back in again.
This is one of the reasons you never want to start out BIG. Start small, make small mistakes, and grow with your business.
Those of you who raise worms, animals, and garden know this too well.
2020 has seen more than double the increase in worm sales and worm related products for the very reasons I stated above. I've been in the business for 10 years and have NEVER seen it like this before. My sales have increased exponentially too.
"Normal" people are trying to figure out how they can sustain themselves or their families during these times. They know the truth. They'll have to keep doing it year after year to become good enough to grow food to eat and for storage.
This is a trial and error situation. As stated in one of my books The Worm Farming Revolution, "Gardens don't just happen." as you've probably already read my Gardening Advice article.
Most sincere people, brand new to worm farming, will fail simply because they don't follow instructions, UNTIL they fail. We all do it. I NEVER look at the instructions until I cannot assemble the product any further or have some of the pieces left over. It's just human nature for some of us. I failed at raising worms the first time too.
This is why I teach the many aspects of raising worms, animals, and gardening. It's all due to failure of some kind. Failures make us succeed.
If you succeed the very first time at anything, chances are you may fall on your butt when a problem arises. So...get out there and fail! 😊
Because people will fail but will want to get back on their feet, will be the reason 2021 will see another boom in sales (but could also be for "other" political reasons). This time they'll go back to the instructions and do it right and succeed.
Whether raising chickens, goats, gardening or worms. They WILL succeed. If at first you don't succeed, fail, fail, and fail again!
Are you a worm farmer? Have you been thinking about taking your hobby/worm know-how to the next level by getting into selling worms, worms castings, worm tea, or worm related products?
I've led over 50 people to one of the best worm culturing courses I've seen to-date. Larry's worm breeding course will help you maximize you worm and cocoon population by exponential and in a short amount of time.
You'll be selling to many new and repeat customers in spring of 2021. Then listing in my Worm Supplier Directory. I get many testimonials from worm sellers like you.
Even if you just want to explode your worm population Larry's course is great for that too.
Now, if you don't want to get into this industry, I hope I've given you some things to think about in the near future.
Click the link below, read testimonials, and I'll also send you my 560 page Revolution Complete Package with your purchase.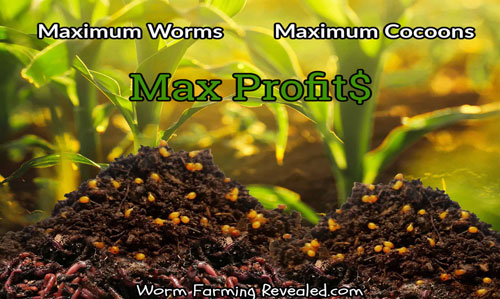 Get 20% off The Worm Breeding Course




Quick Update on The Beneficials Hollywood Screenplay
I'm proud to announce The Beneficials" placed Quarter-Finalist in the TSL Free Screenplay contest.
It beat out 13,000 other scripts and received some very positive analysis for me to add to many other judges' critiques. It has received 3 awards. Two of them are 1st place winners.
I've been asked several times when the script will actually go into production. Unfortunately, I do not know. The movie industry is an extremely hard nut to crack and it's all about timing.
You need a trifecta,
• The right script
• The right producer/production company
• At the right time

Many people in the industry tell me that the best Hollywood scripts can take years to get into production or even noticed and this goes especially for animation. Animation is not a shoot-it-produce-it type of genre. IT's EXPENSIVE!
Keep in mind that 50,000 to 80,000 scripts are written or introduced each year. Ugga! Mugga! That's some stiff competition.
It's been given a $10 million estimated budget from one judge. It could easily go much higher depending on which company takes it on. Companies such as Netflix, DreamWorks, and even PBS have been mentioned.
All I can do, in the meantime, is keep redrafting it and making it better, better, and better. Remember, you must fail to TRULY succeed. I welcome it! However, I never really consider them failures anyway, just lessons. 😊
I hope you've enjoyed the newsletter and I apologize it's been too long. Life happens, right?




All the best in the crazy year. See you much sooner!As always, Grow Something Amazing!
~Pauly



---
If you're a new subscriber and you've missed past issues of the worm Poop-Scoop newsletter, you can find a lot of great info about worms, bins, etc. here: Back issues



---
P.S.
You can also get a free Worm Farming Revolution eBook emailed to you with the purchase of The Urban Worm Bag 2.0



The eBooks have a lot of info you won't find on the website. No need to sift through misinformation. Let my Garden Pics prove I put my money where my mouth is.



AND remember there's LOTS of info, Over 600 pgs, at the website Worm Farming Revealed



Bless you all and Grow Something Amazing!
~Pauly