New 2021 Book, Brown Thumb Green Thumb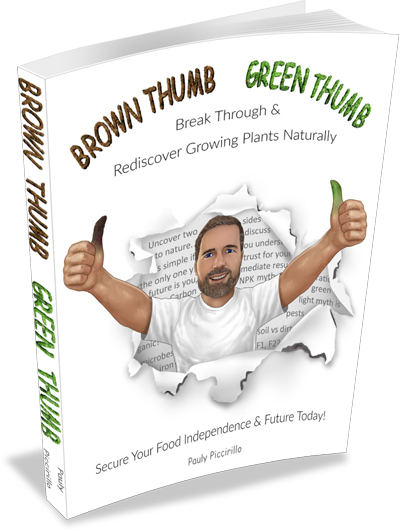 Hello Worm Farming Revolutionist all across the Globe.
I have a BIG announcement. The new eBook is finally out and ready for download. I have titled it Brown Thumb Green Thumb.
It has been a long and difficult 2020. I know I don't have to say that. Everyone is going through the after effects of 2020. I wrote this during the loss of my dad. It was very tough to write through it all.
Anyway, it's not a book about worms or composting. It's all about understanding how to grow plants successfully.
Our green thumb is very important, but we must first have a solid foundation to work with. That's when our brown thumb becomes important.
Yes, I do talk about worms, compost, and even compost tea. However, I go into great detail discussing the difference between soil and dirt. I break down the many nutrients and how the plant utilizes certain minerals.
I try to break down almost every component of the plant and soil so that you can understand the process. As my dad would say, "You can't fix it if you don't understand it."
Even though I've been gardening for several years, you learn new things year after year. I've finally learned that the answer is all around us. The answer is three major elements.

1. Light
2. Carbon
3. Exudates

Moisture is important but that comes with the rains. Nature practically takes care of itself we just need to guide it and mold the plant into what our expectations are for the growing season.
I've found a very simple way of working with worms, compost, and carbon. I don't want anyone to be misled. I still work with worms but on a very small manageable scale indoors.
I let my odorless, outdoor compost pile do most of the heavy lifting without any back-breaking or turning of the pile.
The microbes and macrobes play a huge role in breaking everything down. Although, there is a secret to the pile that you'll learn in the book. Once you understand it, your garden will never be the same.
I am REALLY looking forward to this year's growing season. As a newsletter subscriber I'm offering the eBook as a one time purchase of $7.95. Its introductory price is currently $9.95 but it'll go up from there.
My book "Secret Recipe" sells for $7.95. However, Brown Thumb Green Thumb is the "Secret Recipe" on steroids. You're getting Over 150 pictures to help you visualize & 180 pages of 2021 Need-to-Know Info.
Click the link to purchase Brown Thumb Green Thumb for $7.95 or go take a preview of the book and see the Table of Contents BUT come back to this newsletter to get the discount.
This will only last till the end of March. In April the price will be $14.95.
I hope your growing season is everything you hoped it to be and remember to never give up because every year is different, and you learn more and more each year. Let the process work, listen to nature, and grow something amazing.
~Pauly Piccirillo
PS
Please let me know what you thought of the book by leaving an honest review.
Get the Book for $7.95 ONLY HERE for my subscribers.
Click the link to purchase Brown Thumb Green Thumb
---
P.S.
You can also get a free Worm Farming Revolution eBook emailed to you with the purchase of The Urban Worm Bag 2.0



The eBooks have a lot of info you won't find on the website. No need to sift through misinformation. Let my Garden Pics prove I put my money where my mouth is.



AND remember there's LOTS of info, Over 600 pgs, at the website Worm Farming Revealed



Bless you all and Grow Something Amazing!
~Pauly