Brown Thumb Green Thumb Paperback Version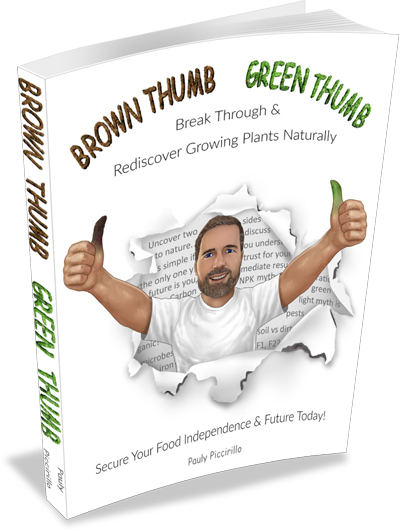 Hello and A BIG Thumbs Up to EVERYONE!
This is just a quick newsy to say that the new book Brown Thumb Green Thumb is in paperback version.

Formats are:

1. Paperback
2. eBook
3. Kindle

I've got a lot going on so far this year. If you've been following me on Facebook (which is where I've been posting some of my updates, lately) you'll also notice the new greenhouse.
I plan on creating a video on how I built the greenhouse. Stay posted for that.
I'm also thinking about a new YouTube channel titled: "Pauly Nation" with some my latest hacks. Get it? Pollination? What do you think? :)
I really need some help from those that have purchased (or will be purchasing the book) to post some honest reviews if you've purchased on Amazon instead of the website. So far, there is one review but I haven't been able to really promote the book since the passing of my father.
The paperback listing on Amazon is still a work-in-progress but the book ships in 2 days for prime members. Sorry for the pricing. I only make about $1.20 on the paperback. The price is as low as I can go. Amazon takes the rest :/ I may go back to my old publisher. We'll see.
If you're interested in watching the paperback book announcement video, here's the link: Brown Thumb Green Thumb video.
So far the garden is coming along well and I'll be brewing worm tea soon enough. Another great reason for the greenhouse is to house my worm population. This will be on a webpage and in a video as well, for the worm farming revolutionists 😉
Lots to get to in 2021 as our economy is heavy into inflation with all of the borrowing (for whatever reason) will only lead to more inflation over double the prices. Just look at lumber already. I'll not discuss this now :( But...
This was one of the reasons I wrote the new book as the subtitle sates "Secure Your Food Independence and Future Today!"
Thanks for all of your support and I hope to talk soon.
Grow Something Amazing!~Pauly
P.S.
IF you purchased from my website, please let me know what you thought of the book by leaving an honest review at the website. I will also reply to your input.
---
P.P.S.
You can also get a free Worm Farming Revolution eBook emailed to you with the purchase of The Urban Worm Bag 2.0



The eBooks have a lot of info you won't find on the website. No need to sift through misinformation. Let my Garden Pics prove I put my money where my mouth is.



AND remember there's LOTS of info, Over 650 pgs, at the website Worm Farming Revealed



Bless you all!
~Pauly