What You Need to Know About The History of Chemical Fertilizers and How it Applies Today.
This is the history of chemical fertilizers, how to get off our addiction to them, and what to replace them with. Where do we go from here?



The World is Upside-Down!


Be prepared to be Amazed, Shocked, Appalled, and Educated.

Making the Case for: Brown Thumb Green Thumb

Let me begin by saying that in 2022 agricultural products will be in extremely short supply. This is due to the throttling and high price of natural gas and oil from Russia. Russia and Ukraine supply 30% of the world's wheat. Along with food shortages will also be fertilizer shortages, due to natural gas and oil from the OPEC countries. I'll get into the petrochemicals later.

It is PARAMOUNT that you understand how to grow food for yourself in any way that you can. In Any Way!

THERE IS NO WRONG TIME TO START LEARNING. THERE ARE BETTER TIMES BUT YOU DO WHAT YOU HAVE TO DO. THAT'S BETTER THAN NOTHING.

After all, it's easy, said billionaire Michael Bloomberg when running for president in 2020, "Just stick a corn seed in the ground, spit on it, and up pops a corn plant. If you can do that, you can be a computer programmer". Say Waaaaat!? 😮

I'm not preaching gloom and doom just responsibility and truth.

If I had told you, in 2019, about C0-vid, toilet paper, gas prices, inflation, Ukraine invasion, lockdowns, supply chain interruptions, 30 trillion dollars in debt, 94 counties still have not passed anti-slavery laws, or we generally have 3 months of food supply before the next shipment (which are sitting on barges rotting), etc. etc., you would NOT have believed me. I would have been called a conspiracy theorist.

These are the scenarios that made my family start learning to be self-sufficient in the 1990's.

After writing Brown Thumb Green Thumb (at the beginning of 2021) the already high food prices began to rise even more, due to the 2020 pandemic. It was part of my inspiration for writing the book.

In 2020 I knew a record amount of people would want to grow their own food. Of course, this comes with a lot of practice, patience, and persistence. It's March of 2022 and I think it's warranted to say,

"We're in a food, energy, health, or any fill in the _____ CRISIS!".

I don't care what anyone's politics are or how they think we got here, BUT…WE'RE HERE!

It really is a big wakeup call. The unfortunate situation is…a crisis is no time to start learning anything. The best time to garden, prep, practice, etc., is in the good times, no matter how uncomfortable it is, cause you know, "bad times are a comin". However, you're here now. So, KUDOS!

The recent news stated that chemical fertilizers are rising in price and becoming in short supply, even for people wanting to start a garden. They're in for a BIG AWAKENING. My wife watched some YouTubers talk about not being able to get any fertilizer at their local feed store. If they don't learn how to grow plants organically, they're also in for a rude awakening.

The History of Chemical Fertilizers Dates Back Over 150 years.
This may be one of the most important articles I've written in a long time.

I'm making the case for: Brown Thumb Green Thumb.

I'm not asking you to purchase the book, but I think you'll find this article extremely interesting if your a gardener, worm farmer, composter, read food label ingredients, etc. It's a 3-week intensive study with some of the links directly from the chemical companies themselves.

I've put off preparing my own garden to get this information out to the public ASAP as some are saying petrochemicals are natural (or not that bad) because they're extracted from the air. This is not entirely true. This is why I felt it was important to research, research, & research.

So, grab your favorite beverage, get cozy, and Continue Reading...


AND PLEASE ETHICALLY SHARE THE LINK ABOVE WITH ANYONE!



Brown Thumb Green Thumb, Any Version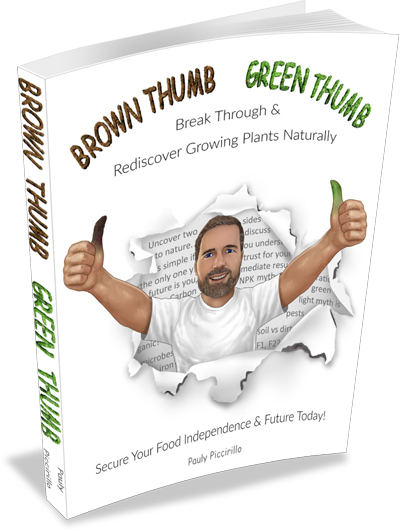 P.S.
Want this book for FREE? Find Out How


The eBooks have a lot of info you won't find on the website. No need to sift through misinformation. Let my Garden Pics prove I put my money where my mouth is.


AND remember there's LOTS of free information, Over 700 pgs, at the website Worm Farming Revealed


Bless you all!
~Pauly