The First Ever
Worm Composting Coloring Book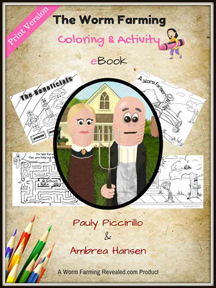 Welcome to another issue of the Poop Scoop. Where it's my ultimate goal to Teach, Inspire & Empower you to become the best worm farmer you can be...Plus a lot more!!!
In This Issue...
A Worm Composting Coloring eBook (for kids)


Another Trusted Worm Source - Heather Rinaldi

---
1. The Worm Farming Coloring & Activity eBook
GET KIDS EXCITED ABOUT WORM FARMING!
Hello my distinguished colleagues, worm scholars, fellow educators, and worm farming enthusiasts of the community. Many of you know I've been working on some material for kids to instill a desire (and love) to return to the land our generation has seemed to have left behind.
This is why I came back to the roots I learned as a child, and became the "Prodigal Son" so-to-speak. Even if kids DO stray from the things they're taught, when they're older, it will always be in their minds in some form. If they don't ever act out upon it then they may support or be sympathetic in some manner. I think that's a good thing :)
Who knows! We just may be influencing the next mastermind of the soil, gardening, or composting community.
Kids absolutely LOVE to learn, and especially when it's entertaining. The Worm Farming Coloring & Activity eBook will allow you to print and print and print.
If you're a teacher, nature educator, or you think your specific audience would benefit from the material, then download the eBook today. If you know of others who would benefit or could use the material then pass this newsletter along to them. You can also affiliate with the book too.
I sincerely hope you enjoy the book as much as my daughter and I did creating it. :) I REALLY drug her through the compost pile this time ;)
The 44 Page Printable eBook is available for only $4.95. It includes 26 coloring pages and 14 "Bonus Feature" pages.
I wanted to share this with you before the price goes up. Some have already said that the bonus pages aolne are worth it!
The Worm Farming Coloring & Activity Book
This is separate from the 12 free pages that are available for download. We've added 14 more coloring pages plus the introduction of...The Beneficials! Heroes of the Soil.
---
2. Another Trusted Worm Source - Heather Rinaldi
Remember in another issue I said that I'd be revealing some people in the worm farming industry that I've personally vetted? They know there worm stuff.
There's a LOT of information online. If you're savvy enough and can devote a great deal of time to slogging through and separating fact from "hype" then go for it. Some people just don't have that luxury or aren't educated enough (yet). One needs to filter out those who are only trying to sell you information (or even the wrong product) vs someone who actually wants to help you and see you succeed. This is one of the reasons why I wrote The Worm Farming Revolution.
So let's meet an organic gardener, worm tea brewer, soil healer, soil teacher, worm educator, mentor, recycler, entrepreneur, and yes...worm farmer :) Plus a lot more.
When it comes to making worm tea (Heather calls it her "worm wine"), creating worm castings, growing composting worms etc. she gets it. She understands the way that microorganisms and macroorganisms interact with each other in order to have that symbiotic relationship within the soil food web.
This is extremely important when owning a business and selling to customers who TRUST that your product will do what you say it will. This is why Heather's castings are tested by a dependable laboratory. Not many castings producers give you that kind of assurance.
Heather also holds vermicomposting & vermigardening workshops. How she pencils it all in, I do not know. I could say a lot more about Heather but I'm not quite ready to reinvent the "vermiwheel". Thankfully my friend, Steve Churchill, (another great WFR patriot) has quite an extensive interview with her, among others.
More about Heather Rinaldi at the Urban Worm Network.
Visit Heather Rinaldi's website at TXwormranch.com

Stay tuned for the next issue. The cold weather is fast approaching...
---
Get the latest updates...
Remember to Like Us on Facebook, subscribe to YouTube, G+, The Worm Blog, and this Newsletter (duh! already here ;) or just head over to the website for some good reading Worm Farming Revealed.com
"From Synthetic Thinking to Organic Doing"
~Pauly Piccirillo

To Teach, Inspire & Empower you to become the best worm farmer you can be...Plus a lot more!!!
Please share this email with those you know will benefit!