The Worm Inn

FREE SHIPPING!
The Worm Inn is truly one of the next innovations to hit the worm farming industry in a long time. I kind of wonder if the word "Inn" is short for Innovation.


If you're looking to turn worm compost into rich worm castings fast, then the Worm Inn will definitively do the job.

It is designed around the concept of a continuous flow-through system.

Unlike plastic worm bins that don't breathe well, this system is designed to draw oxygen in from the bottom and expel it from the top.
It's made of rugged Cordura. A high tinsel-strength fabric that will last a very long time. Let's face it! If you're like me, you'll be cramming in all the worm compost you possibly can before next planting season hits.
How Does the Worm Inn Work?
Because it's a continuous flow-through worm bin system it makes the process as easy as the concept.

Simply add food scraps like, fruits and vegetables along with some bedding material such as coco coir, shredded cardboard, paper, peat moss etc... to the top.

When the worm compost has converted to worm castings simply collect it from the bottom opening of the bin.

That's it!
Cons of Plastic Worm Bins
1. Constricted Air Flow

2. Excess Moisture

3. Tedious Harvesting

4. Excess Disturbance

5. Unattractive

6. Slow Productivity

7. Unable to Hang

8. Too Heavy (potentially)

Pros of the Worm Inn
This particular system IS attractive. It breathes extremely well (due to the mesh screen on top) which increases the productivity of worm castings and cocoons. It also allows the moisture to evaporate through the top and drain out the bottom.
The funnel-like shape allows you to easily open the bottom end and extract the worm castings...all without disturbing your worms during their stay at the Worm Inn and less disturbance means more production.
P.S. It's even a better conversational piece and you can hang it anywhere.
(except in the sun :)
---
Purchase
Purchase The Worm Inn only.
I DO NOT wish to order a stand.
I will hang it or build my own or
hold it in my arms forever.
(Because I love it that much)

Ships in the contintinental US
Only


Worm Inn Only
FREE SHIPPING! US Only

---
The stand kit comes with
8 corner pieces and 4 zip ties.

You'll need to go to the local home improvement store and have them
cut the following pieces below. 

The total size is 18" x 18" and
stand is about 3 feet tall.

Ships in the contintinental US
Only

Worm Inn + Stand Kit 
FREE SHIPPING! US Only


Here's what you'll need to do to finish the stand.
For about $6 or less you can have your hardware store cut these following pieces of white PVC.

Purchase: Three 10′ Segments of 3/4″ PVC Pipe (about $1.60 ea. give or take)

Cut four 3' legs & eight 18" top/bottom sides.

This keeps the cost way down. It just cost too much for shipping. It's a whole lot cheaper for you to make the legs.

Four 3' & eight 18" pieces
Custom 5 Minute No Bend, No Stoop Stand Kit!
The stand kit comes in white PVC, but can be spray painted any color.



Here's the Finished Product!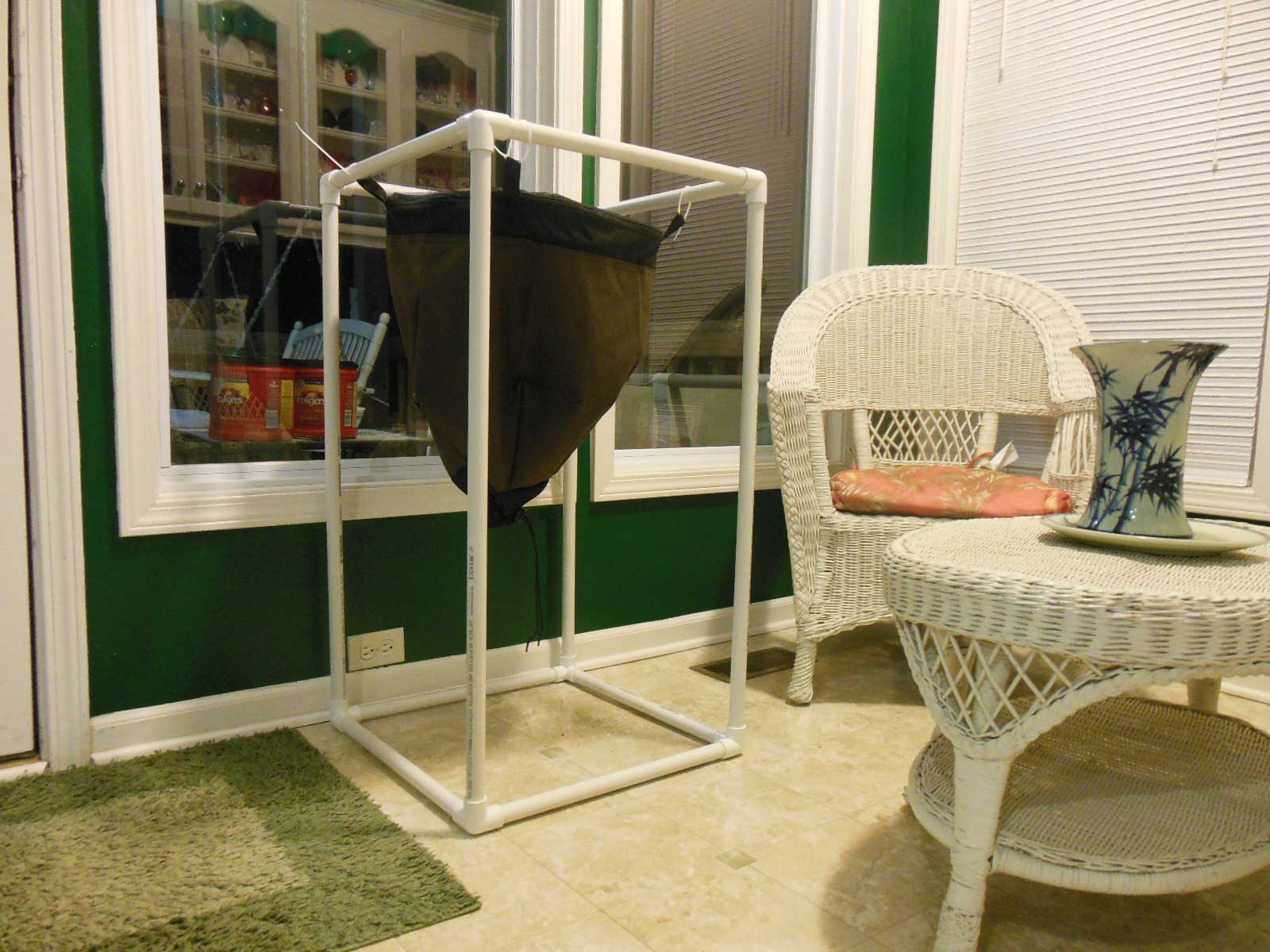 Return to Garden Products from the Worm Inn