The Urban Worm Bag
2018's newest small-scale continuous flow-through worm composter
Hello Fellow Worm Farming Revolutionists!
I sincerely hope you ended last year with a lot of worm knowledge, and are excited to start the new year putting that knowledge to work!
Knowledge gives us the power to make a difference in someone's life AND our own, especially when nature is our teacher. One of the best things about knowledge is the ability to recycle it and share it with those who are hungry for it.
Which is exactly what I want to share with you in this newsletter!
Over the years I've had the privilege of meeting a lot of wonderful people within the worm farming community. It never ceases to amaze me at how kind and sharing people are within this community and I'm proud to be a part of it.
One of those people is Steve Churchill from Urban Worm Company. Every now and then I write about someone within the community who is inspirational, educational, and even entrepreneurial.
I would say Steve possesses all 3 qualities, and so, let me now tell you about his entrepreneurial quality.
I've known about Steve's latest project, The Urban Worm Bag, for a little while now, but haven't had the time to share it with you until now. He did such a fantastic job designing it that I actually couldn't wait to SHOW you!
Well, Here It Is!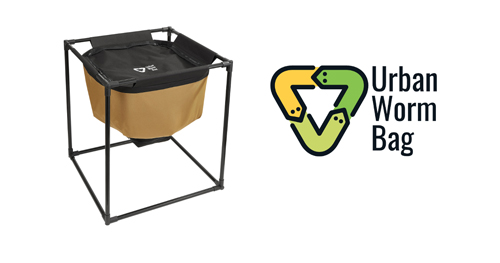 Okay, So why am I bragging about this worm composter?
I've seen a lot of different worm composters, and if you know how to culture worms, you can do it it in ANYTHING!
But Come on! Look at this beauty!
I know you may have seen "other" similar styles (even in my Revolution book), but not only do I think Steve is on to something here, he has managed to completely reinvent the small-scale continuous flow-through worm bin (when it comes to a suspended composter).
Why is The Urban Worm Bag any different? Well, without trying to over explain it, I'll just touch on a few points and then let Steve do all the explaining to you. I call it "worm-splaining" ;)
Here are the main reasons why I am using the Urban Worm Bag. It has...
1. A Large Capacity, 2. Sturdy Steel Frame that is included with your order 3. Long Suspension Straps 4. Wide-Mouth Opening at Bottom 5. Holds over 250 pounds of material 6. Great breath-ability and 7. Outstanding Moisture Retention (my favorite part)
The breath-ability and moisture retention were a VERY BIG factor for me because other systems breathe TOO good. The material will dry out IF you don't perform moisture maintenance often enough. This generally means using a spritz bottle constantly. UGH! :/
This is possible due to the lining of polyurethane on the 900D Oxford nylon fabric that won't rip or...
Whoops! Now I'm selling it to you. That's not my job :)
Anyway, go take a look for yourself. Wait a minute! let me brag about one more thing, Free Shipping and a Lifetime guarantee BABY!---BOOOOOOM!
OH! One more thing too! It's only $79.00
You only have 3 Days until price goes UP! UP! UP!
So, now you can see some of the great reasons why this is an absolutely fantastic composter and why it gets WFR's Seal-of-Approval :)
Aaaaaaand why you signed up for this newsletter :)
Go Check Out The Urban Worm Bag! and start your year off right!
Have a wonderful New Year,
~Pauly
P.S. Only a few days left to support my KickStarter Project!
---